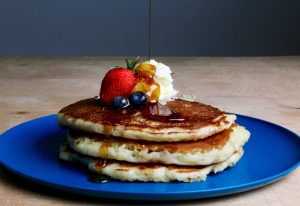 What better way to start the year off than with a wonderful
pancake breakfast!
This yearly event is the first Saturday in June. Come and join us for a yummy breakfast This is a great opportunity to meet new neighbors and connect with old friends. Hope to see you there!
The Nine and Dine is a yearly event that is typically scheduled for July. This event is played at the Sundre Golf Club and is a four person 'best ball' tournament with a 4:00 shotgun start. Golf with cart and supper is $55, or only come for supper for $25. A great way to meet some of new neighbors and get some exercise at the same time.
Our Make N' Take events are scheduled Saturdays from 1-3. Crafts are modestly priced and include all supplies, as well as instructions to complete the project. Classes are lead by various people with a passion for their projects. Shadow boxes, table knitting, card making, button art, rustic serving trays and sugar art are examples of past projects. Dates for specific classes can be found in the newsletter.
Our Canada Day celebrations are second to none! Parade starts at noon. All guests are welcome to participate; past submissions have included floats, decorated golf carts, controlled race cars, dressed up pets…Of course we have candy, and there is the ever-popular water balloons and water guns. After the parade you can find an assortment of organized games set up throughout our park – the locations are mapped and posted so you and your family can easily find the ones that interest you most. And we finish the day with a yummy BBQ. Fun for the whole family!
Our annual 'Great Rosewood Bake Off' is a tasty event that we all look forward to. What a fun and delicious reason to get together with your neighbors. All are welcome to participate. Participants bring their favorite baked item and the spectators get to do the tasting. A 'not-so-formal' judging takes place, and the winner gets their name added to the trophy, which we had specially made for this event. Already excited to see what we get to try next year!
Our annual 'Chili Cook-off' is another tasty event that is popular. Again, all are welcome to participate and submit their favorite family recipe. Spectators get the delish job of tasting, and similar to the Bake-off, an informal judging decides the most tasty dish. This trophy was specially made for this event as well, and the winner's name is proudly engraved on the base.
We have an avid Cribbage group here at the resort. Tournaments and game nights are scheduled events and the dates are noted in the newsletters. All are welcome to participate.
Bingo is another group activity here at Rosewood. Again, these are scheduled events and the dates are noted in the newsletters. Everyone welcome!
---
---